---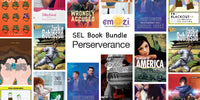 Aligns with the Emozi® Grade 7 curriculum!
The Emozi® Grade 7 Family & Friendship SEL Book Bundle includes ten fiction and nonfiction titles*, which align with Unit 2 of the Emozi® Grade 7 curriculum.
They make perfect additions to classroom libraries and reading aloud in class to stimulate group discussion around SEL-related themes—all at a discounted bundle price.
---
Exclusive Digital Download
A Guide to Teaching SEL Through Literature digital download is included with your purchase and will be emailed when the product ships.  
---
About the Family and Friendship Collection
From Saddleback Educational Publishing. Hi-Lo books feature age-respectful and engaging content written at lower reading levels to support students reading below grade level. This* book bundle includes:
Jackie Robinson
Nonfiction. With this graphically illustrated biography, students can activate prior knowledge--bridge what they already know with what they have yet to learn about Jackie Robinson. It also teaches inference skills, character development, dialogue, transitions, and drawing conclusions.
Qwik Cutter
Shawn always runs late. Always. He even turns homework in late but never seems to get in trouble. His grades are great. He's smart. Well-liked. Except by Amanda. She's furious that he gets away with everything. They were friends once, but no more. Especially not in their video production class. The class had a big summer assignment. Now it's time to turn it in. Shawn hasn't even begun editing. To cut corners, he uses a downloaded freebie app. But it's been hacked. The morning the project is due, he wakes up in an alternate universe. A place where he doesn't exist and nobody recognizes him. Except for Amanda.
A Dream of America
Historical fiction, followed by a nonfiction summary at the end. Life was hard in my village in Poland. So I came to America. I have little money, and I don't speak English. Will my dream of a better life come true?
Double-Cross
Would Braden betray a friend to get the car that he desperately wants? Braden must find a summer job. If he doesn't, he will lose out on the car of his dreams. His father will only help with the payments if Braden gets a part-time job. But the competition for summer jobs is fierce. How far will Braden go to beat the competition?
Wrongly Accused
Nonfiction. The U.S. criminal justice system is designed to convict criminals, but sometimes innocent people are wrongfully accused and sentenced. Some are cases of mistaken identity. Some are due to poor police work. Many of these individuals live for years behind bars before being freed. Tragically, some have died before having their names cleared. What would you do if you were wrongly accused?
Connected Lives: John Legend/Michael Buble
Connected Lives, a contemporary nonfiction series for teens, features the fascinating life stories of popular artists. Each book presents two singers in a similar musical genre who have lived extraordinary lives. As similar as these artists may seem, their rise to fame may have been very different. 
Silentious
Mai Pham cannot wait to return to Summit after the holiday break. She remembers how she used to dread it. School was a lonely place. But now Mai has two besties: Carson and Emma. Ever since Carson showed up, life has been different. Mai's new school ties don't please her dad. Friendships are a distraction. Can Mai prove him wrong?
Stones
Since her dad's death, Jan Glass has been angry at everyone. Her mom and teachers are always on her case. Even her little sister seems extra whiny. One evening, Jan stomps off to bed in a fit of rage. But when she wakes up, everything is different. She finds herself in a strange place with odd creatures. They need her help, but Jan wants no part of it. Until that is, one of the creatures changes her mind and her attitude. 
Blackout
Ellie and her friend Kate get to spend time with Ellie's grandparents at their beach cottage. It's their first trip without their parents. The girls are excited and share everything on social media. But then a solar storm knocks out power to the entire state. People have to learn to live without electricity, running water, or technology. Will the girls be bored to tears?
The Soldier
Leyla's village is broken, all because of the war. She can't go to school, her best friend has been forced to move away, and American soldiers occupy her small village. Now, Leyla has to spend all day at the sewing shop with her mother and the village's other women. But when she meets an American soldier who happens to be a woman, Leyla's view of the world is changed forever.
* Subject to availability; An out-of-stock book may be substituted with a similar title.