---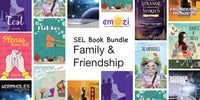 Aligns with the Emozi® Middle School curriculum!
The Emozi® Grade 6 Family & Friendship SEL Book Bundle includes ten hi-lo fiction and nonfiction titles*, which align with Unit 1 of the Emozi® Grade 6 curriculum.
They make perfect additions to classroom libraries and reading aloud in class to stimulate group discussion around SEL-related themes—all at a discounted bundle price.
---
Exclusive Digital Download
A Guide to Teaching SEL Through Literature digital download is included with your purchase and will be emailed when the product ships.  
---
About the Family and Friendship Collection
From Saddleback Educational Publishing. Hi-Lo books feature age-respectful and engaging content written at lower reading levels to support students who may be reading below grade level. This* bundle includes:
One Amazing Summer
Ana has never been far from her home in California, but now she has a chance to travel to New Orleans with her gran. The two see some interesting sights and eat good food along the way. They also have a chance to help search for a missing boy who has set off searching for aliens.
Ashley's Test
Ashley is a popular student and participates in many of Walden Lane High School's activities. She works hard and plays hard. After her classmates are busted for cheating, they seek revenge on Ashley. The cheaters think she turned them in. The girl is faced with two hard choices: go to the principal or be kind to the haters.
Please Don't Tell
Piper and May would like to get to know Sandy, the new girl in their class, but Sandy would rather be left alone. After some time, Sandy finally starts to warm up to the girls. But they can tell she's hiding something. Piper decides to get to the bottom of Sandy's secrets once and for all.
Wormholes
Nonfiction. Are there white holes in space? Who said space and time are the same? Why do wormholes exist? How fast does light travel? What if you could time travel
Fish Boy
Danny's family is full of superheroes. His mom is Stunner. His dad, Raven. And his sister, Marta, Vanish. Each has their own gift. Danny is Fish Boy. But in landlocked Arizona, there is not a lot of need for a superhero with amazing water talents. Then Danny overhears a secret plot that will endanger thousands of people. Will anyone believe his story?
The Science of Movies
Nonfiction. How did Edison help movies get started? What was Technicolor? How do 3-D glasses work? Who was Dar Robinson? Has a movie ever amazed you?
The Underdogs
Girls rule! That's what Jasmine Le thinks. And girls can do anything boys can do. But can they play tackle football? Heck yes! Jasmine takes on her whole town to prove that girls can run, jump, and catch a pigskin just as well as boys.
Scratch & Sniff
Cool girl Mia is perfection. And she knows it. She and her two besties rule the school. They declare what's hot and what's not. And the Scabs are definitely not. They are losers. One of the Scabs accidentally cracks Mia's phone. Mia loses her cool. She takes her popularity a step too far and uses her status to bully the girls who ruined her expensive phone. But being "queen bee" can change in an instant. And it does for Mia when a doctored Instagram post shows her making out with the school dweeb. Mia is floored at how fast she falls. Once the tables are turned, she learns how harsh she's been.
Strange but (Mostly) True, Book 1
Nonfiction. Strange debris is found in a field near Roswell, New Mexico. Many suspect it is an alien spacecraft. Fires have burned beneath a town for over 50 years. Rocks weighing several hundred pounds move across the land on their own. Are these unbelievable tales real? Find out in this fascinating collection of short stories.
Engineering Wonders
Nonfiction. People have long been fascinated by building great structures, from ancient wonders like the pyramids to tall modern skyscrapers. While many are constructed to solve problems, some are built purely for entertainment. Learn more about the engineering wonders of our past, present, and future.
* Subject to availability; An out-of-stock book may be substituted with a similar title.