---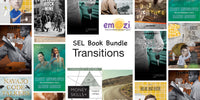 Aligns with the Emozi® Middle School Curriculum!
The Emozi® Grade 6 Transitions SEL Book Bundle includes ten hi-lo fiction and nonfiction titles*, which align with Unit 2 of the Emozi® Grade 6 curriculum.
They make perfect additions to classroom libraries and reading aloud in class to stimulate group discussion around SEL-related themes—all at a discounted bundle price.
---
Exclusive Digital Download
A Guide to Teaching SEL Through Literature digital download is included with your purchase and will be emailed when the product ships.  
---
About the Transitions Collection
From Saddleback Educational Publishing. Hi-Lo books feature age-respectful and engaging content written at lower reading levels to include students who may be reading below grade level. This* book bundle includes:
The New Kid
Paige and Coco are curious about the new boy in school. His name is Orion Wells, and Paige can't put her finger on it, but there's something different about him. Orion's presence seems to change their whole school. Is the new kid from another planet, or is his kindness just out of this world?
Broken Promise
Choosing between keeping a promise and keeping a friend is tough. Josh's first few days of driving without an adult passenger may be cut short if his dad learns that Josh drives Cooper and Nikki to the dance. Josh promised his dad, but he wants to help out his friend. How will Josh's dad react to a broken promise?
Wild Weather
Nonfiction. Weather happens every day. Sometimes it is wild. Hurricanes, tsunamis, and tornadoes are just some of the wild weather events in the world that have taken many lives and destroyed cities.
Little Rock Nine
Nonfiction. Nine high school students in Little Rock, Arkansas, were at the heart of the battle to integrate schools in the late 1950s. Many places in the south were slow to change, but things got especially heated in Little Rock, Arkansas.
Under the Stairs
Diego isn't scared easily. Not even when his parents buy the creepiest house in town. He's used to moving. A lot. His parents flip houses for a living. Then he finds something odd in the basement. And it's alive.
Living on a Budget / Road Trip (Money Skills)
Build students' personal finance skills with this nonfiction/fiction flipbook. Important aspects of managing money are explored, including budgeting, opening a bank account, credit, coupons, and saving. 
Connected Lives: Kacey Musgraves / Maren Morris
Nonfiction. Connected Lives, a contemporary nonfiction series, features the fascinating life stories of popular artists. Each book presents two singers in a similar musical genre who have lived extraordinary lives. As similar as these artists may seem, their rise to fame may have been very different. 
Navajo Code Talkers
Nonfiction. In World War II, a unique team of soldiers fought to help the U.S. win using an unusual weapon -- language. Native Americans from the Navajo Nation were recruited to help the U.S. military create a code that no enemy could break. These men were called Navajo Code Talkers. This is their story of bravery.
No Limits
What would you do for your best friend? Jared believes that best friends would do anything for each other. And Gray is grateful for Jared's generosity. But then Jared asks Gray to lie for him. "It's just a little lie," says Jared. Gray agrees to help out his best friend until he realizes that there are limits to friendship.
Break and Enter
Mark just can't settle into his new life. He misses his friends and has trouble connecting with new classmates. Walking through his neighborhood, he sees an open window. Instantly, everything changes. Maybe he can pretend to be someone else and live a different life...if only for a moment.
* Subject to availability; An out-of-stock book may be substituted with a similar title.