---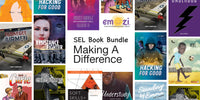 Aligns with the Emozi® Middle School Curriculum!
The Emozi® Grade 6 Making a Difference SEL Book Bundle includes 10 fiction and nonfiction titles* selected to align with Unit 3 of the Emozi® Grade 6 curriculum.
They make perfect additions to classroom libraries, and for reading aloud in class to stimulate group discussion around SEL-related themes—all at a discounted bundle price.
---
Exclusive Digital Download
A Guide to Teaching SEL Through Literature digital download is included with your purchase and will be emailed when the product ships. 
---
About the Making a Difference Collection
From Saddleback Educational Publishing. Hi-Lo books feature age-respectful and engaging content, written at lower reading levels to include students who may be reading below grade level. This* book bundle includes:
Tuskegee Airmen
Nonfiction. World War II was coming. Soon the United States would join the war. Everyone knew it was a matter of time. African Americans wanted to fight for their country. They wanted to be pilots. But they had to overcome racism to earn their wings.
Marie Curie
Nonfiction. In this graphic biography, students will learn all about Marie Curie, from childhood to her discovery of radium, and beyond.
I Am Underdog
Kemba feels like the lamest kid in school. If only he could be cool like the computer game superhero Underdog. But he can't even save himself from the biggest bully in the sixth grade, let alone protect the weakest of the weak as Underdog does. He has zero friends. Or so he thinks. Kemba hasn't even had the courage to try until one act of cruelty pushes him over the edge.
Rebel
Koji's world is like any boy's. He loves sports. Goes to school. Studies hard. Dreams big. But childhood ends quickly. Rebel forces enter his village. They ransack the school. Their teacher is beaten. Maybe even killed. The boys line up, guns to their backs. Koji's group goes one way. His best friend's another. What's happened to his family? They are all dead, says a rebel. And you will be too if you don't do what we say. They march for hours. Days. One boy drinks too much water. He is hit again and again. Then murdered. The boys watch and learn. That will not be their fate. It's kill or be killed. So they kill.
Adaptability / Understudy (Soft Skills)
Develop students' soft skills with this nonfiction/fiction flipbook. Critical elements of soft skills in the workplace and everyday life are explored. Topics include communication, emotional intelligence, adaptability, problem-solving, and work ethic.
Resistance Fighter
Nonfiction. It was World War II. I carried messages for the Resistance. Secret messages from fighter to fighter. There were German soldiers everywhere. I was always in danger.
Hacking for Good
Nonfiction. Hackers have found endless ways to break into computer systems. But this isn't always a bad thing. In fact, governments, companies, and schools rely on their own hackers to keep people safe. Learn more about how these experts use computers and coding to hack for good.
Connected Lives: Nicki Minaj/Cardi B
Connected Lives, a contemporary nonfiction series for teens, features the fascinating life stories of popular artists. Each book presents two singers in a similar musical genre who have lived extraordinary lives. As similar as these artists may seem, their rise to fame may have been very different. 
No Exceptions
Students who fail to turn in their assignments on time will get a zero, Mr. Lee has decreed. Tyler and Malik had fun all weekend. Now they have to stay up all night to write their papers. Their classmate, Darcie, finished her paper days ago. And she agrees with Mr. Li's "no exception" policy. But now she can't find her paper...
Standing By Emma
BFFs Danya and Emma are known around school as Demma. The girls are total opposites, but they know each other so well that they finish each other's sentences. Danya is plagued with guilt when the girls and Rosie, Emma's mom, are involved in a terrible car accident that leaves Emma in a wheelchair. Danya believes the wreck was her fault because she distracted Rosie from the road and had to be scolded. For a while, Emma believes it too. And she can't forgive her friend.
* Subject to availability; An out-of-stock book may be substituted with a similar title.