---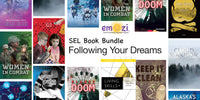 Aligns with the Emozi® Grade 8 curriculum!
The Emozi® Grade 8 Following Your Dreams SEL Book Bundle includes ten hi-lo fiction and nonfiction titles* selected to align with Unit 1 of the Emozi® Grade 6 curriculum.
They make perfect additions to classroom libraries and reading aloud in class to stimulate group discussion around SEL-related themes—all at a discounted bundle price.
---
Exclusive Digital Download
A Guide to Teaching SEL Through Literature digital download is included with your purchase and will be emailed when the product ships.  
---
About the Family and Friendship Collection
From Saddleback Educational Publishing. Hi-Lo books feature age-respectful and engaging content written at lower reading levels to support students reading below grade level. This* bundle includes:
Cloud Warrior
Raul and Juan set out for a few hours of kayaking. The weather is in their favor. It should be an easy ride. Raul, nicknamed the Cloud Warrior, prides himself on knowing good weather from bad. But once on the river, storm clouds appear. Their only choice is to keep moving and try to beat them. Soon they learn that a storm is the least of their worries. Some unexpected campers are in the area, causing trouble. Not only for Raul and Juan. But for a girl Raul likes.
Doing Household Chores/ Keep it Clean (Living Skills)
Build students living skills with this nonfiction/fiction flipbook. Important aspects of living and managing basic skills on your own are explored. Topics include finding a place to live and moving in, making a grocery list, buying groceries, housekeeping and keeping things clean, and cooking your meals.
Women in Combat
Nonfiction. Women have always played an important role in the U.S. military. However, they weren't allowed to fight in battle for many years. Still, women fought for their right to defend their country, and now they are breaking barriers on the battlefield and in leadership roles. These are the stories of courageous women in combat. 
Connected Lives: Halsey / Billie Eilish
Connected Lives, a contemporary nonfiction series for teens, features the fascinating life stories of popular artists. Each book presents two singers in a similar musical genre who have lived extraordinary lives. As similar as these artists may seem, their rise to fame may have been very different. 
Easy Pass
This year Kaya is having trouble studying for history class. Kaya is off to a bad start when she does poorly on an exam. Mrs. Holt offers a tutoring session to help students study for their next history test. While waiting for the session to begin, Mrs. Holt leaves the classroom and leaves Kaya alone with a copy of the next test. 
Iggy
It's the school holiday break, and Iggy is going to Las Vegas to spend time with her dad and stepmom Tiffany. How exciting! Her dad must be planning something big. The Strip. Amusement parks. Thrilling roller coaster rides. But that's not what happens. Iggy is stuck at home in suburbia with Tiffany while her dad works. Then she meets Lucas. His mom is a showgirl, and his dad is an Elvis impersonator. Their house is loud. Colorful. One night Iggy sneaks out and goes with Lucas on an adventure. Her seemingly meek stepmother boldly rescues them when the kids' plan goes awry. 
Planet Doom
Reggie and Joanna can't resist exploring the burned-out amusement park. Before the evening is over, they take some terrifying rides and meet an even scarier old man. They barely escape with their lives before they learn what bitter disappointment can do to a person's sanity.
Dream Land
When her best friend invites her to spend a week at the lake, Luna jumps at the chance. But what starts as the perfect summer getaway quickly turns into an unsettling mystery. Can Luna figure out the forest's secrets before it's too late?
Cryptocurrency
Nonfiction. Is it the money of the future or just a fad? Learn how and why cryptocurrency was created, how it is used, the pros and cons of virtual currency, and its role in the future. Fad or not, this fascinating digital currency is changing the world of money. 
Alaska's Iditarod
Nonfiction. Each year, the Iditarod is a challenging sled dog race held in the frigid Alaskan wilderness. Sled dogs and mushers must work as a team to battle the elements and become champions. While the race has become a popular sporting event, it began as a life-or-death sprint to save a remote village. Learn about the race's history, its dangers, and some of the daring dogs and mushers who have won Alaska's Iditarod.
* Subject to availability; An out-of-stock book may be substituted with a similar title.