---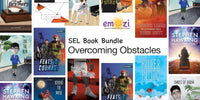 Aligns with the Emozi® Middle School Curriculum!
The Emozi® SEL Overcoming Obstacles Book Bundle includes ten hi-lo fiction and nonfiction titles* which align with Unit 2 of the Emozi® Grade 8 curriculum.

They make perfect additions to classroom libraries and reading aloud in class to stimulate group discussion around SEL-related themes—all at a discounted bundle price.
---
Exclusive Digital Download
A Guide to Teaching SEL Through Literature digital download is included with your purchase and will be emailed when the product ships.  
---
About the Cultural Diversity Collection
From Saddleback Educational Publishing. Hi-Lo books feature age-respectful and engaging content written at lower reading levels to support students reading below grade level. This* book bundle includes:
Emoji of Doom
Travis knew he had mad skills on the court. Off the court, his life was pretty sweet too. Everything was chill until Travis dissed a chain email. Who believes in that stuff? Forward it immediately? Nah! Oops! Big mistake.
Emotional Intelligence / Bad Day (Soft Skills)
This nonfiction/fiction flipbook explores critical elements of soft skills in the workplace, and everyday life is explored in this nonfiction/fiction flipbook. Topics include communication, emotional intelligence, adaptability, problem-solving, and work ethic. 
Break All Rules
When opposing teams stay at the same motel, the coaches give the players strict rules. Be polite and keep to yourselves. At first, Rick appears to be cooperative, but Cole begins to question his actions. When Garrett goes missing, Rick acts strangely. What has he been up to?
The Brothers
Tyler and his mom and stepdad are fans of Major League Baseball. When the star pitcher on their favorite team signs Tyler's baseball, Tyler proudly displays it in a case that he keeps on his dresser. Tyler's stepbrother is not into baseball. And he doesn't seem to like Tyler either. When the baseball disappears, Tyler knows he didn't lose it. So who took it?
Feats of Courage
Nonfiction. Heroes are all around us. They may be famous for their deeds, or they could be our friends and neighbors. What sets heroes apart from the crowd is courage. It takes courage to save a life, help others, or fight for what you believe in. How have heroes made an impact on your life?
Connected Lives: Kendrick Lamar/Travis Scott
Connected Lives, a contemporary nonfiction series for teens, features the fascinating life stories of popular artists. Each book presents two singers in a similar musical genre who have lived extraordinary lives. As similar as these artists may seem, their rise to fame may have been very different. 
Behind the Mask
Moving before the summer of 8th grade sucks. But meeting the guy of your dreams makes it way better. Serena feels accepted in her new school, especially when she starts dating Kai. He seems to be the coolest guy ever. Then Ollie shows up. He's weird. Awkward. Is what he says true?
On the Run
High school senior Jack Porter is a track star. During one of his last meets, he asks pretty Becky Mann to the school dance. She's flirty and fun until they get to the dance. Then she gives Jack the cold shoulder. He can't figure it out and soon gives up trying. Sometime during the evening, the police show up. There's a body in Jack's car. It's Becky! The officers question and release him only to show up at his house the following morning. Jack flees. He knows he's being framed. Who killed the pretty teen? Fugitive Jack is determined to find out. 
Stephen Hawking His Life and Legacy
Nonfiction. Stephen Hawking was one of the brightest minds of our time. A physicist and a lifelong learner, Hawking overcame serious obstacles and made discoveries that changed the world of science. Hawking was diagnosed with a terminal illness at an early age but beat the odds time and again. Through humor, he helped make science more accessible to millions of people. This is his story. 
Killer Flood
Dan and Pete are excited to have a sleepover at Dan's house while their parents are away. Their excitement turns to fear when the dam breaks and a killer flood smashes through town. The boys decide to stay put until they realize that Dan's elderly neighbors may be in danger. When they reach the neighbors' house, they find one of them near death. His lifesaving medicine is underwater, and his wife is too old to make her way to town to get more. Both boys brave the flood to find help.
* Subject to availability; An out-of-stock book may be substituted with a similar title.