---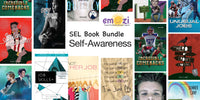 Aligns with the Emozi® Middle School Curriculum!
The Emozi® Grade 7 Self Awareness SEL Book Bundle includes ten hi-lo fiction and nonfiction titles* which align with Unit 3 of the Emozi® Grade 7 curriculum.
They make perfect additions to classroom libraries and reading aloud in class to stimulate group discussion around SEL-related themes—all at a discounted bundle price.
---
Exclusive Digital Download
A Guide to Teaching SEL Through Literature digital download is included with your purchase and will be emailed when the product ships.   
---
About the Self-Awareness Collection
From Saddleback Educational Publishing. Hi-Lo books feature age-respectful and engaging content written at lower reading levels to support students reading below grade level. This* book bundle includes:
Summer Camp
Finally! Derek's mom said he could go to summer camp. No parents allowed! But Camp Rainbow? It sounded girlie and lame. Time away from home was too awesome to turn down. And the crime he uncovered was epic. 
Preparing a Resume/ Not Her Job (Job Skills)
Build students' job skills with this nonfiction/fiction flipbook. Important aspects of jobs and managing basic skills on your own are explored. Topics include preparing a resume, finding a job, job interview basics, how to act on the job, and employee rights. 
Pay Back
After finding out that Torie is dating Rae's ex-boyfriend, Chance, Rae plans to pay Torie back. Rae decides to date Brad, a boy that Torie really likes, just to make her jealous. Unfortunately, Rae doesn't count on how her feelings for Brad might change. By the time Rae realizes she's fallen for Brad, it might be too late.
Connected Lives: Ed Sheeran/Shawn Mendes
Connected Lives, a contemporary nonfiction series for teens, features the fascinating life stories of popular artists. Each book presents two singers in a similar musical genre who have lived extraordinary lives. As similar as these artists may seem, their rise to fame may have been very different. 
Incredible Comebacks
Nonfiction. Athletes are often seen as heroes. They represent the best of the best in the world of sports. But even players in their prime can be hurt or injured. What makes an athlete truly heroic is their ability to recover and come back better than ever. Have any of your favorite sports legends ever made an incredible comeback?
I'm Just Me
Nasreen and Mia are two very different girls. But they stand out at Arondale High. And kids make assumptions about the only Muslim and the new black girl--the only African American--in school. "Who let you into the suburbs?" Samantha asks. Everyone gawks. Nasreen has kept her head down for years. Eighteen months and she's out, she tells herself. Off to college. Mia is bold. Yeah, she wishes she were somewhere else, but she's not going to take the bullying lying down. She has to live her life. Graduate. Get into a good school. The school administrators are ignorant. And worse. The bullying escalates. Both at school and online. The girls come up with a plan to fight back. To regain some dignity. To turn the tables on the bullies. 
The Hero of Crow's Crossing
Excellent teacher Mr. Ridley appears from nowhere and accepts a teaching job at the tiny and poor Crow's Crossing School. He's an excellent teacher, but questions swirl around him. Why is he here? Where did he come from? And most importantly, why is he digging holes on Shadow Hill? Tazmin doesn't care about all that. She's learning math. Her brother is learning how to read. But the truth has a way of revealing itself, much to Tazmin's dismay. 
Stolen Treasure
The family treasure has caused a rift between sisters. Isa's mom proudly shows Grandma's picture above the mantel in the Rodriguez living room. It's the last gift that Isa's grandfather ever gave. And it is proudly displayed, infuriating Isa's aunt. Then it is stolen. But why? Isa learns that to keep a valued friendship, sometimes it's better to think of others before yourself. 
Unusual Jobs
Nonfiction. For many, a job is just a way to make money. However, some people have unusual careers that provide unique opportunities for excitement and fulfillment. Many work environments are outside the norm, from jumping out of planes to working with animals to saving people in combat. What unusual job could you see yourself doing?
Screaming Quietly
Ian Taylor lives a secret life. At school, he's a varsity football player, dating one of the hottest cheerleaders on campus. At home, he's his divorced mother's right hand, helping her to keep his younger autistic brother, Davey, in line. To Ian, Davey is a freak. And no one must ever know about him. But it's a game-changer when Davey begins attending a special day class at Ian's school. Undaunted, Ian continues his charade of denying Davey's existence, even when Davey has massive public meltdowns. He internalizes his strong feelings--Screaming Quietly inside--until resentment, anger, and embarrassment force him to burst. But his love for Davey and his desire to man up eventually allow him to overcome peer pressure and fully own his life.
* Subject to availability; An out-of-stock book may be substituted with a similar title.