---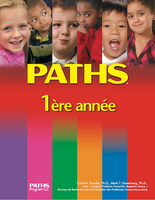 Une formation en ligne d'une valeur de 150 $ est désormais comprise! Deux modules interactifs et auto-rythmés de formation en ligne de 3 heures («Introduction» et «Suivi») fournissent les informations et le soutien dont chaque instructeur a besoin pour mettre en œuvre le programme éducatif PATHS® facilement et efficacement dans sa classe.*

Le package de mise en œuvre du programme éducatif PATHS® de Première Année comprend :
L'inscription pour 1 instructeur à la Formation en ligne du programme PATHS® 

Le manuel du programme de Première Année, contenant la totalité des leçons entièrement scénarisées

L'affiche "Signaux de contrôle" 

L'affiche "3 étapes pour se calmer"

L'affiche "Le Tableau des Sentiments"

L'affiche "L'Enfant du jour"

Les cartes "Visages & Sentiments" (ensemble de 25 exemplaires de 38 cartes pour la classe avec 25 pochettes de rangement refermables)

Des autocollants Tortue (lot de 500)

Des autocollants l'Enfant du jour (lot de 200)

Marionnette Tortue **

Vitrophanie adhésive «Souviens-toi de faire la Tortue!" à rapporter à la maison (ensemble de 25)
L'accès en ligne comprend : 
Le matériel de soutien pour l'instructeur, dont des ressources spécifiques aux leçons et des activités d'approfondissement, des leçons facultatives, des listes de livres supplémentaires, et bien plus encore!

Les lettres pour les parents/tuteurs à rapporter à la maison, des fiches d'information et des activités à faire à la maison en anglais et en espagnol

Le guide "Une introduction au programme" 

Le matériel de soutien pour les conseillers/administrateurs, dont un manuel de sensibilisation, un index des leçons, une feuille de suivi des leçons et un kit d'évaluation du programme.
* Veuillez noter que la formation en ligne est offerte en anglais seulement.
** Le modèle de la marionnette peut varier. Sous réserve de disponibilité.
---
Now includes Online Training—A $150 value! Two 3-hour self-paced and interactive online training modules ("Introduction" and "Follow-up") that provide the information and support each instructor needs to implement the PATHS® program easily and effectively in their classroom.*
The PATHS® Grade 1 Classroom Implementation Package Includes:
Registration for 1 instructor to PATHS® Program Online Training 

Grade 1 Curriculum Manual, containing the complete set of fully scripted lessons

'Control Signals' Poster

'3 Steps for Calming Down' Poster

'Feelings' Poster

'PATHS® Kid for Today' Poster

'Feeling Faces' Cards (classroom set of 25 copies each of 38 cards and 25 resealable storage pouches)

Turtle Stickers (set of 500)

PATHS® Kid for Today Stickers (set of 200)

Turtle Puppet**

Send-home Adhesive Cling—'Remember to Do Turtle!' (set of 25)
Online Access To:
Instructor support materials, including lesson-specific resources and extension activities, optional lessons, supplemental book lists, and more!
Send-home parent/caregiver letters, information sheets and home activities in English and Spanish
'An Introduction to the Curriculum' Guide
Counselor/administrator support materials, including a 'Building Awareness' manual, Lesson Index, Lesson Tracking Sheet and program evaluation kit.
* Please note that online training is provided in English only.
** Actual puppet design may vary. Subject to availability.