---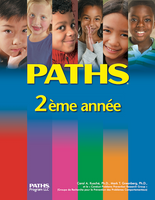 Une formation en ligne d'une valeur de 150 $ est désormais comprise! Deux modules interactifs et auto-rythmés de formation en ligne de 3 heures («Introduction» et «Suivi») fournissent les informations et le soutien dont chaque instructeur a besoin pour mettre en œuvre le programme éducatif PATHS® facilement et efficacement dans sa salle de classe.* 
Le package de mise en œuvre du programme éducatif PATHS® de Deuxième Année comprend:
L'inscription pour 1 instructeur à la Formation en ligne du programme PATHS®

 

Le Manuel du Programme de Deuxième Année, contenant l'ensemble complet de leçons entièrement scénarisées

L'affiche "L'Enfant du jour"

L'affiche "Signaux de contrôle"

Le Tableau des Sentiments

Les cartes "Visages & Sentiments" (ensemble de 25 exemplaires de 38 cartes pour la classe)

Des autocollants l'Enfant du jour (lot de 200)

Vitrophanie adhésive à faire rapporter à la maison - "Sers-toi des signaux de contrôle!" (lot de 25)
L'accès en ligne comprend :
Le matériel de soutien à l'instructeur, dont des ressources spécifiques à la leçon et des activités d'approfondissement, des leçons facultatives, des listes de livres supplémentaires, et bien plus encore!

Les lettres pour les parents/tuteurs à rapporter à la maison, des fiches d'information et des activités à faire à la maison en anglais et en espagnol

Le guide "Une introduction au programme"

Le matériel de soutien pour les conseillers/administrateurs, dont un manuel de sensibilisation, un index des leçons, une feuille de suivi des leçons et un kit d'évaluation du programme.
* Veuillez noter que la formation en ligne est offerte en anglais seulement
---
Now includes Online Training—A $150 value! 
Two 3-hour self-paced and interactive online training modules
("Introduction" and "Follow-up") 
that provide the information and support each instructor needs to implement the PATHS® program easily and effectively in their classroom.* 
The PATHS® Grade 2 Classroom Implementation Package Includes:
Registration for 1 instructor to PATHS® Program" Online Training

Grade 2 Curriculum Manual, containing the complete set of fully-scripted lessons

'PATHS® Kid for Today' Poster

'Control Signals' Poster

Our Feelings Chart

'Feeling Faces Cards' (classroom set of 25 copies each of 38 cards)

Stickers – PATHS® Kid for Today (set of 200)

Send-home Adhesive Cling – 'Use the Control Signals' (set of 25)
Online Access To:
Instructor support materials, including lesson-specific resources and extension activities, optional lessons, supplemental book lists, and more!
Send-home parent/caregiver letters, information sheets and home activities in English and Spanish
'An Introduction to the Curriculum' Guide
Counselor/administrator support materials, including a 'Building Awareness' manual, Lesson Index, Lesson Tracking Sheet and program evaluation kit.
* Please note that online training is provided in English only