---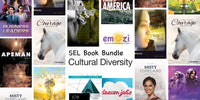 Aligns with the Emozi® Middle School Curriculum!
The Emozi® SEL Cultural Diversity Book Bundle includes ten hi-lo fiction and nonfiction titles* which align with Unit 3 of the Emozi® Grade 8 curriculum.
They make perfect additions to classroom libraries and reading aloud in class to stimulate group discussion around SEL-related themes—all at a discounted bundle price.
---
Exclusive Digital Download
A Guide to Teaching SEL Through Literature digital download is included with your purchase and will be emailed when the product ships.  
---
About the Cultural Diversity Collection
From Saddleback Educational Publishing. Hi-Lo books feature age-respectful and engaging content written at lower reading levels to support students who may be reading below grade level. This* book bundle includes: 
Finding a Job / Dream Jobs (Job Skills)
This nonfiction/fiction flipbook explores important aspects of jobs and managing basic skills on your own is explored in this nonfiction/fiction flipbook. Topics include preparing a resume, finding a job, job interview basics, how to act on the job, and employee rights. 
A Dream of America
Historical fiction, followed by a nonfiction summary at the end. Life was hard in my village in Poland. So I came to America. I have little money, and I don't speak English. Will my dream of a better life come true?
Business Leaders
Nonfiction. Business leaders come from a variety of backgrounds. Some inherit a family company. Others are entrepreneurs. All have a vision and are driven to achieve success. Find out what it takes to be an influential business leader. 
Connected Lives: Ariana Grande/Camila Cabello
Connected Lives, a contemporary nonfiction series for teens, features the fascinating life stories of popular artists. Each book presents two singers in a similar musical genre who have lived extraordinary lives. As similar as these artists may seem, their rise to fame may have been very different. 
Friend or Foe?
It's time to elect a new class president. Cory and Eli quickly enter the race, although Jazz and Key aren't sure that they would make a good president. After Jazz agrees to vote for his friend, Cory, he realizes he would like to run himself. Will Jazz turn out to be Cory's friend or foe?
A Horse Called Courage
Tami Nguyen's summer job as a camp counselor takes her away from home for the first time. She's lonely, shy, and it's hard for her to make friends. But those problems are nothing compared to her fear of the camp's horses. 
Finding Apeman
Diego is determined to escape his small town where animals far outnumber people. He wants to go to art school, even though his father thinks an artist's life is a road to nowhere; he didn't come to the U.S. so his son could become a starving artist. It's Diego's dream, and he slowly saves for his future by dealing weed, which is easy to come by in the Emerald Triangle. Diego is the dealer everyone turns to at school, but he refuses to deal the hard stuff, like meth. His girlfriend's entire family is addicted to drugs, so he's seen its destructive power. 
World Cup Soccer
Nonfiction. Since it began, the World Cup has been the scene of soccer history. This is where legendary players have made their mark. There have been stunning upsets. Drama has unfolded on and off the field. Through it all, billions of fans around the world have watched. While new technology and rules bring changes, the world's most popular sport continues to gain fans.
Tug-of-War
Malia MacLeod is part Hawaiian and part Haole, the Hawaiian word for Caucasian. Raised in Los Angeles, she returns to Oahu to teach high school and learn about her family's history. 
Misty Copeland: Prima Ballerina
Nonfiction. Misty Copeland has faced many challenges in her life. From starting dance at a late age and not having a typical dancer's body type to growing up with abuse and poverty, her journey to becoming the American Ballet Theatre's first Black prima ballerina has not been easy. Driven by her passion for dance, Copeland continues to inspire change in the world of ballet.
* Subject to availability; An out-of-stock book may be substituted with a similar title.